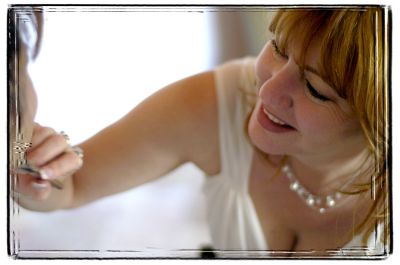 Kathleen Hagan, owner of Beau Idéal Beauty, began drawing faces as young as she can remember. In every person she was always able to see his or her beauty. She went on to become a fine artist who trained with professional portrait artists, painting and drawing portraits by the age of 14.
With her love of people and art she discovered she was a natural at make-up and hair. She spent many years exclusively as a film and TV make up artist and hair stylist. She continues to work in production and regularly lends her talents to professional photo shoots, videos, film and TV.
She loves using the techniques she has learned as a professional make-up artist and hairstylist for her private clients as well.
In 1996 she started Beau Ideal Beauty and has widened her experience to include special events and weddings.
Kathleen especially enjoys being part of one of the most important days in a couple's lives. Helping a couple to create the vision that expresses their own special love continues to give her a tremendous amount of joy.
Being a true romantic, Kathleen believes "Love" and "Beauty" are intertwined and is continually inspired by the stories of every couple she encounters. It gives her a great degree of vitality and a sense of privilege to be included in these celebrations of love on such a regular basis.
Kathleen's mission in life is to help people see their beauty.
In that way she feels that everyone deserves to shine like a star, and prides herself in not only helping her clients look wonderful, but feel wonderful as well.
proud member of: