Brides Testimonials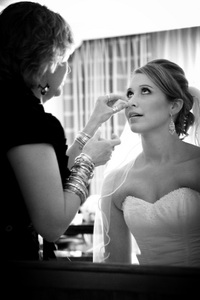 "A small note of HUGE THANKS for the wonderful work you did at our wedding on Sunday. My bridesmaids and I felt so beautiful and none of us wanted to wash our faces off! You are such a talent, and so lovely to work with. I'm grateful to Debbie Fields for sending me to you, and hope to have the opportunity to get to know you better now that our big day is over...
Being in public relations, I know the value of having happy customers/clients, and the power of enthusiastic testimonials, so here's mine for Beau Ideal:
Every bride wants to feel like a princess on their wedding day. Kathleen Hagan makes you feel like a queen. Because of her background in fine arts, she approaches her work with an artist's eye and precision, creating a work of art rather than just slopping on makeup. Her work is subtle, natural, graceful--you look gorgeous, not "made up." And she is a real pleasure to work with--fun, charming, helpful, and always professional. My entire wedding party--all mature women--never looked or felt better. Kathleen's makeup photographed beautifully, and stayed on all evening without touchups. Kathleen is equally skilled with hair; she created a intricate but very romantic "updo" style for me that complimented the shape of my face, enhanced the dress style, and fit in with the "Italian Renaissance" theme of the wedding. If you want to feel and look like a star on your special day, put your face in Kathleen's capable and artistic hands!
With warmest wishes and again our thanks for a terrific job!"
~Debra and Peter Spitzer
"Kathleen, you are so artfully skilled and the makeup you did for me and my girls was gorgeous and flawless! This weekend, not only did I pay way more (sooo not even worth it since she wasn't half as good as you!) but she 1) did not do airbrush as she advertised to the bride, 2) put so much blush on me I looked like a clown and had to take some off and 3) didn't provide anything for touch-ups or stay to touch us up for pictures. Not only was your work beautiful and made me feel radiant but you made sure EVERYONE looked good and spent time with all of us!"
~ Kerri
"I want to thank you once more for doing such a wonderful job on my hair and make-up! You helped keep me and my party calm and self-assured. It was so nice of you to stick around after the ceremony to do touch-ups before the last round of photos. Your skill formed the groundwork for what turned out to be a fantastic day for all of us!"
~Anne
"I have been wanting to thank you since the day of the wedding for all of your help and for the wonderful job you did with my hair and make-up. I felt like a princess with you touching me up all day long.
You truly were a tremendous help to me. I was very happy with my hair and make-up and got a lot of compliments. I felt as if you were one of my closest friends with all of the help you gave me. Thank you again!"
~Jana
"I had to write to tell you how pleased I was with my hair and Make-up for the wedding. In addition to doing great work, you were a pleasure to work with!"
~Faith
"Thank you so much for all your help! You truly were my savior, the pictures came out beautiful because you were there to fix us up."
~Kristy
"Thank you for doing such a beautiful job on my make-up and hair for me and my bridal party. You and your assistant are amazing and very talented! I respect your job so much and you have so much patience and a great upbeat personality."
~Erica
"Thank you for the wonderful job you did on my make-up and hair for my wedding. I looked great in all the pictures. I love how natural my make-up looks in all the pictures and how flawless my face looks!"
~Lynn
"I just wanted to thank you for doing such a wonderful, super job on my make-up and hair on my wedding day- you really eased my nervousness, you took care of me! Thanks!"
~Tamara
"It's been about 4 and 1/2 years since our wedding, but I have continued to think of you during that time! I still get comments on my hair and make-up---all thanks to you! You provided more than hair/make-up services back in Sept 2000! You were my support that day, kept me calm and made me feel confident-and for that I will always be grateful!"
~Dana
Professional Testimonials
"Kathleen and I have worked together on shoots for some of my biggest and most important clients including Kinko's corporate communications, Pepperdine University, and Agility Communications. She's a real pro and can pull a rabbit out of her hat while under pressure. I've seen her do some amazing things with some not so amazing faces."
~Stephen Schafer, Schafphoto, corporate and advertising photography on location, worldwide. Studio Midtown Ventura California.
"If there is one thing we could have on a wedding day, it would be Kathleen Hagan creating beautiful brides for us to photograph. Who needs soft filters when the bride looks flawless. That's what we see when Kathleen is at the event, smooth and natural photogenic brides. Kathleen knows how to consistently enhance great looking brides and get it done ON TIME!"~Patrick and Sharon, Anderson's Photography and Video
"I have been working with Kathleen Hagan for almost 10 years and I must say she is the best in the business. She did hair and make-up for my own wedding and I looked flawless all day and late into the evening! Over the years we have worked together on many many weddings and she is always reliable and does fabulous work. The brides are always very happy and the photos happen on time because of her professionalism."
~Stephanie Hogue
"I was fortunate enough to have Kathleen do my make-up at my own wedding 8 years ago and now I tell all my clients to call her or their wedding day. I've seen her do clients in very classic/clean looks, very Hollywood/glamorous looks and even a goth look. I've never seen a bride's make-up look overdone or heavy. It always looks very natural but enough to look good on film. She is very good at telling a bride's personality and tailoring their look accordingly. She is very calm and soothing and never runs behind. When you are done being in her chair after having your hair and make-up done you will feel relaxed and pampered...and will look gorgeous.She is equally impressive on studio sets and private portrait shoots."
~Kimberlee Miller
Kimberlee Miller Photography